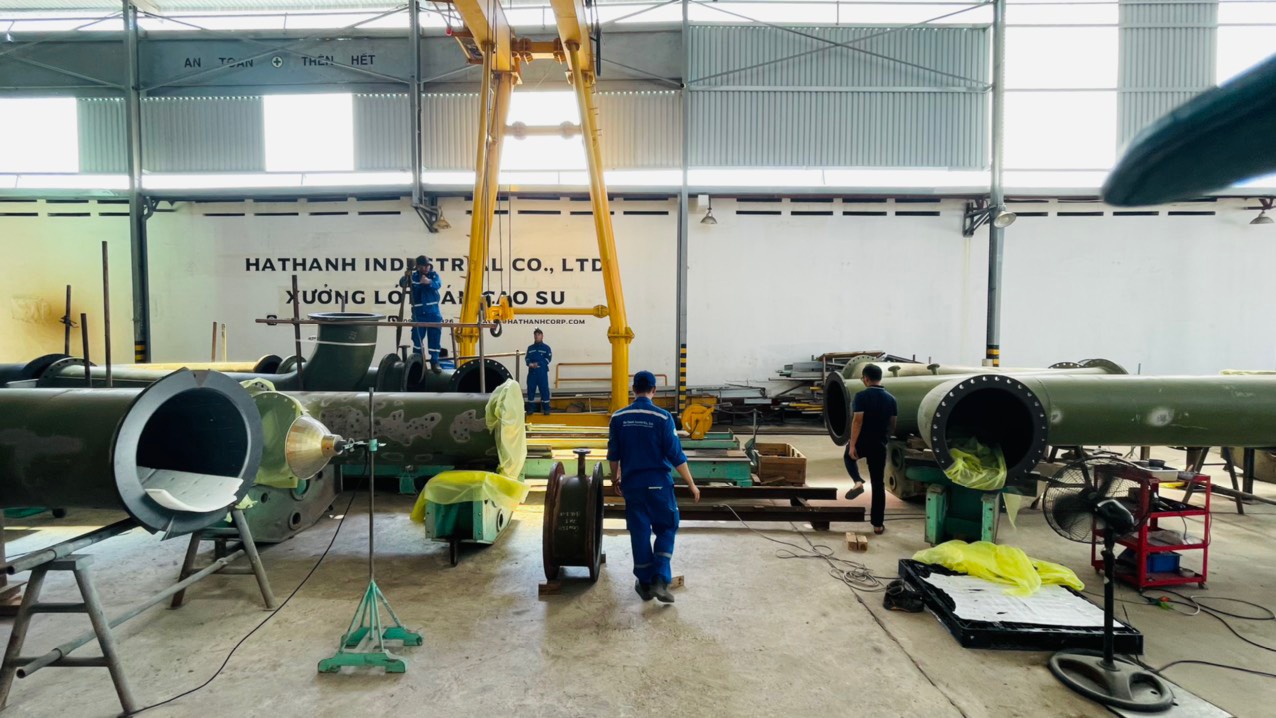 Ha Thanh Rubber Lining In Shop
Ha Thanh rubber lining workshop's and facilities is located in Ba Ria -Vung Tau Province. We have customized our equipment over the years to give us the ability to apply a wide variety of materials to the interior of assorted tank, pipe spool shapes and dimensions. 
Vulcanizing the large pipe/vessel with size under ID 4mx10mmL in our large autoclave (ID. 4mx12mL)

Removing the lining if necessary by induction, by pyrolysis or manually

Preparation of the surface by grit blasting

Applying internal and/or external lining

Vulcanization in steam pressure Autoclaveor in self-vulcanization

Painting

Finishing
We offer a wide range of products and can also create unique products based on your needs as Food processing equipment, Piping, Fittings & Flanges, Water demineralization & Waste water tanks, Filters, screens & Scrubbers, Mine & Mineral processing, Agitators and Pump components.
Iron and Steel industry 
Pickling Tank, Degreasing Tank, Plating Tank.
Chemical industry
Various chemicals are used in the process of production in chemical plant. Ha Thanh select and apply suitable rubber lining material for internal tank, pipe spools to prevent corrosion from these chemicals. (Hydrochloric Acid Tank, Desalination System, Pure Water Production System). 
Popullation control equipment
Mainly applied to environmental loading reduction equipment in power plant and various plant. (Water Box Condenser, Incineration Plant, Wet FGD Systems).
Mining
Ha Thanh supply rubber linings for the most aggressive mining and quarrying applications to electrolysis refining system for zinc, nickel, copper, and chemical treatment equipment. (Gypsum Reactor, Ion Exchange Tower, Thickener).
Others 
Various chemicals are used in the process of production equipments. 
Remark chemical resistance
Chemical resistance are determined according to test results and actual long-term performance. And accurate material selection requires careful consideration in terms of operating conditions and specifications of equipment.
Therefore, please consult with us in advance for selection of rubber material against your chemical.