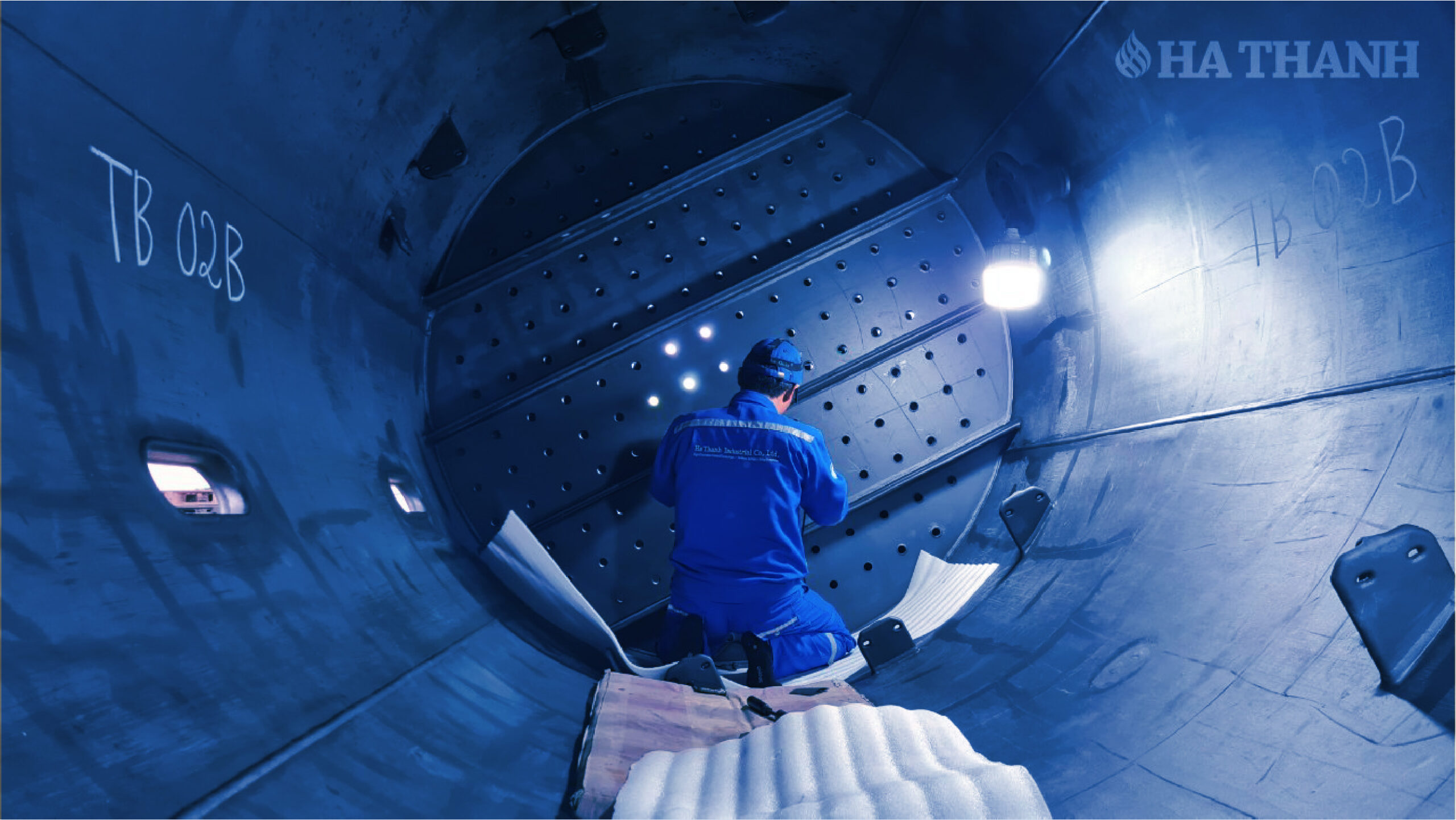 What is Rubber lining
Rubber lining is a method used to protect a variety of equipment systems against corrosion and scratches by applying rubber sheets inside or outside of the requested device.
Lining by natural rubber was applied to protect the surfaces's equipment by America and European countries since the 1920s and Japanese 1960 of the 20th century.
In Vietnam, the anti-corrosion rubber lining has also been used by some chemical and food manufacturing plants since 1993.
Nowadays, with the development of science and technology in the mixing and processing synthetic rubber and adhesives, rubber lining on the metal is considered as one of the most effective and successful applications in the protection of equipment against penetration, corrosion and abrasion.
Why rubber lining
Corrosion occurs when a metal is immersed in liquid which contains water or corrosive substances. Rubber Lining will solve the problem. Rubber lining provides excellent corrosion resistance by applying the rubber sheets onto the metal surface to protect the steel substrate from corrosive environment.
Rubber lining system
Rubber sheets shall be firmly bonded to steel substrate after application of primer and adhesive. After application of rubber sheets and proper vulcanizing, rubber lining provides rubber elasticity, superior strength and chemical reisitance.
Autoclave Vulcanizing (Curing)
The autoclave steam method involves placing the object(s) to be covered or lined with rubber inside a pressure vessel called an autoclave. The autoclave provides a carefully monitored flow of steam, which delivers the best control over the vulcanization process between the four basic curing methods and Good rubber properties and bonding by pressured steam curing.
It provides the increased rubber elasticity and stable physical properties.
Feature of rubber lining
Chemical resistance  ●
Shocket restiance  ●
Abrasion restiance  ●
Pressure restiance  ●
Elastricity  ●
Advantage of rubber lining
● Reliable application
● Accurate lining thickness
● Excellence bonding
● Defect detection
● Able to maintenance
Characteristics of  Rubber Lining Material 
---
Hard Natural Rubber
Good for chemical resistance, vapor permeability and strong bonding strength achieve many application as main rubber lining material.
Natural Soft Rubber
Good for acid, alkali and abrasion resistance.
Butyl Rubber
The most resistance for chemical and heat, excellent vapor permeability in soft rubber. Well used for H2SO4 solution and FGD service.
Chloroprene Rubber
Good for weather, ozone and oil resistance. Well used for sea water equipment.
Rubber Lining Material Application
Ha Thanh rubber lining since 2012
By a team of experts and senior technicians with high professional qualifications, many years of experience from OHJI Rubber and Chemicals Company (Japan) guidance, dedicated teaching for many consecutive years; technical team and employees of Ha Thanh Rubber Lining have acquired knowledge, techniques, skills, experience and know-how of advanced and scientific Japanese rubber lining Ha Thanh will bring the most sustainable finished products for you.
On-Site Application Support
Our OHJI rubber material have cultivated know-how in on-site lining method and mixture technology of vulcanizing rubber.
Accurate and uniform thickness

No air pocket in sheet

Better and longer corrosion performance

Best sheet method rubber lining