We offer flake lining on site and shop application




Applicables area

- FGS plants
- HCL recycling system
- Electroplating
- Tap water supply system
- Incinerator gas cleaning system
- Brine electrolysis
- Reaction system and decomposing system
- Petroleum
- Coke Oven Gas treatment
- Metal pickling system
- Waste water treament plants
- Pulp making system


1) Tanks, Absorber, Tower, Scrubber, Pipe, Duct,

Thickeners

Resin lining Technology has been applied to various kinds of mechanical devices, such as a water purfication equipment, pollution control equipment, seawater desalination equipment, and medical product manufacturing equipment.

Ha Thanh provide Glass Flake Lining material with OHJI Japan brand name.

Below is OHJI product supplied by Ha Thanh for coating the concrete water tank of power plant on 2015.

We apply new glass flake lining wear protection equipment and repair



2) Flue Gas Desulfurization Plant (FGD)

Introduction

Flake Lining is widely applied to FGD system, water treatment equipment, oil tank and several chemical process plant & field... Flake Lining will provide your installation with the most efficient and long-lasting corrosion resistance.

OHJI Flake has turned attention to the feature of flake lining as well as rubber lining and organized flake lining system based on long years research & development.
Generally, typical resin lining is called FRP (Fiber glass reinforced plastics) lining, which is composed of organic resin and fiberglass.

Flake lining is the corrosion lining system composed of matrix resin and glass flake instead of fiberglass.

Feature of Flake Lining

Most outstanding feature of flake lining is low water vapor permeability less than 1/10 of that of FRP lining at the same thickness. This implies that the maze effect of glass flake as shown in the figure.

Glass is the most inert material and there are 80-90 layers of glass flake with in a DFT of 1mm. It acts like a brick work cemented by resin. As corrosive agents are reflected by glass layers, it can not reach substrate or corrosion process is extremely delayed as a result.





Secondary, flake lining has excellent chemical resistance against most of acid, base, solvent and gas. Type of resin could be selected in accordance to the kind of service chemical.

In general, following features are given for flake lining.

GOOD Point
(1) Easy field application – Material hardening at normal temperature
(2) Short application time – Easy for maintenance
(3) Excellent chemical resistance and high temperature service – Up to 150℃ for gas

NOT GOOD Point & SOLUTION
(1) Shock absorption – Combination of application with FRP reinforcement
(2) Abrasion resistance – Compounding with ceramic resin or rubber reinforcement
(3) Workmanship defect – Need to supervise workmanship during application and quality control

OHJI Flake Lining Material

Anti-corrosion protection properties are depending on the type of resin and material compound formulation. It is important to select suitable resin and fillers for specific service condition.

Following diagram shows typical OHJI-FLAKE material and its feature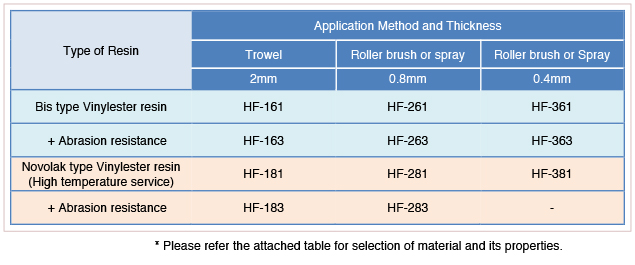 Flake Lining Material Selection for FGD Equipment

Following picture shows typical FGD equipment and OHJI lining system is as in the table.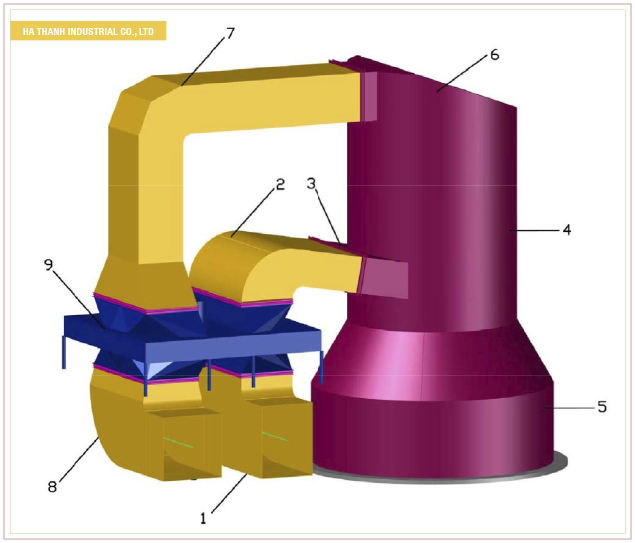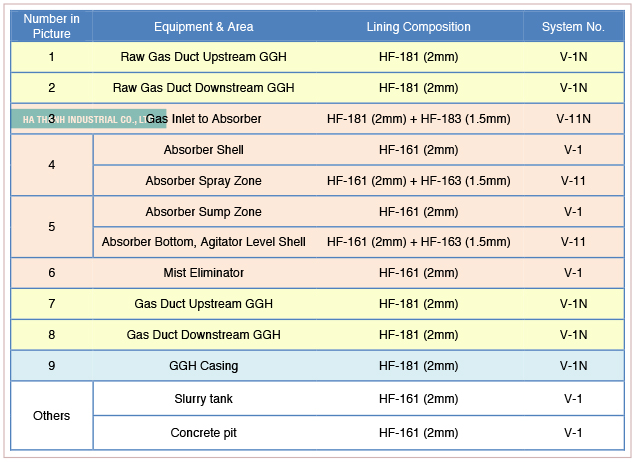 (1) General: System V-1

System V-1 is the most common and representative flake lining system using bis type vinylester resin, provides excellent chemical resistance and is suitable for where Fluorine content is less than 500ppm.
System V-1 shall be used for less than 100℃ temperature service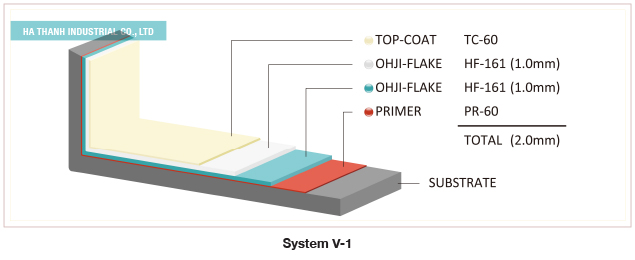 (2) Heat resistance: System V-1N

System V-1N is designed for heat resistant application containing novorak type vinylester resin HF-181.
System V-1N shall be used for more than 100℃ temperature service.





(3) Abrasion resistance: System V-11

System V-11 contain additional layer of abrasion resistant coating HF-163 to System V-1. HF-163 is compounded ceramic particles with bis type vinylester resin. System V-11 is applied for high abrasion resistance is required such as spraying zone and bottom area of absorber.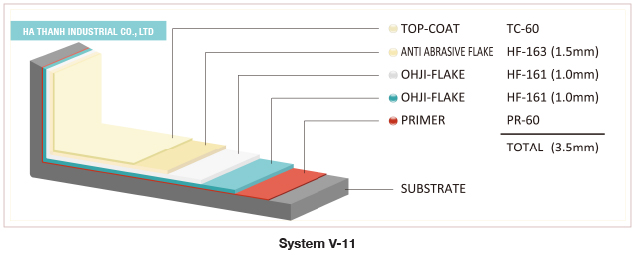 (4) Abrasion & Heat resistance: System V-11N

System V-11N contain additional layer of abrasion resistant coating HF-183 to System V-1N. HF-183 is compounded ceramic particles with novorak type vinylester resin. System V-11N is applied for combination of heat resistance and abrasion resistance is required where gas inlet of absorber.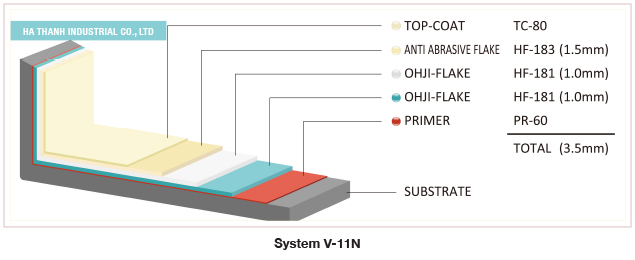 (5) Protection with FRP reinforcement

Each lining system can be reinforced by FRP to provide shock resistance and corner protection such as below system.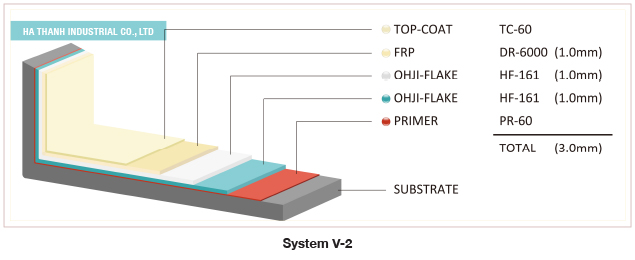 We offer material, supervisor, application both or consulting material selection.


Lining FGD equipment
Lining Selection for FGD
Material Storage
Material Mixing
Flake Lining by Trowel
Flake Lining by Trowel